Urban Entertainment Districts
Iconic new public gathering places anchor the upgrading and expansion of shopping, dining, entertainment and cultural activities — in turn attracting new investment in office and residential development.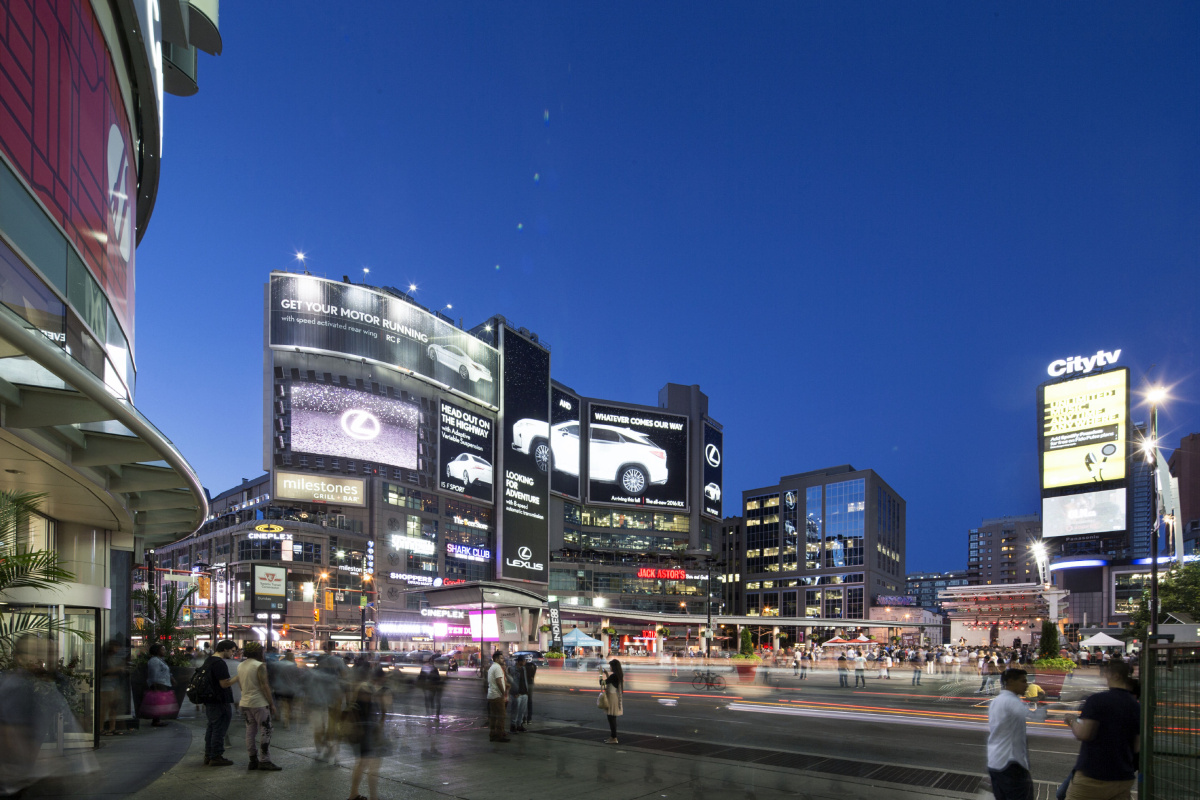 Yonge Dundas Square, Toronto
Client: City of Toronto and Yonge Street Business and Residents Association
1995–2013
Yonge Dundas Square is the one acre centerpiece of a four block regeneration project that commenced in 1995, when Toronto's historic commercial crossroads had reached a low-point of deterioration and disinvestment. It has become one of the city's best known iconic attractions, and has spawned billions of dollars in reinvestment in the surrounding area.
Role: Directed, with City staff and various consultants, a regeneration program that resulted in the development of the Square and surrounding retail and entertainment buildings. Subsequently chaired the Board of Management of the Square for its first ten years.
Downtown Disneyland, Anaheim
Client: Walt Disney Company
March 1996 – May 1997
A new 350,000 sq. ft. retail, dining and entertainment complex, planned to provide a relaxed, amenity-filled environment at the newly expanded Disneyland Resort, Anaheim, California. Intensive green landscaping and lighting were used thematically to create common areas that are attractive both day and night.
Role: Working with Disney staff and consultants, directed the concept development, masterplanning, and building and landscape design, and coordinated the related financial and market feasibility analysis.
Yerba Buena Gardens, San Francisco
Employer: Olympia & York Developments
1981–1984
Yerba Buena Gardens is the centerpiece of the massive regeneration that has occurred in downtown San Francisco's South of Market area. Built beside and over the Moscone Convention Center, the project features major landscaped gardens integrated with a multitude of cultural, entertainment, recreational, and retail facilities; as well as several office buildings and hotels.
Role: Working for an Olympia & York, Marriott, and Rouse Companies consortium, led the successful RFQ bid for the project, then worked with the San Francisco Redevelopment Agency to develop the master plan, including concepts for several innovative cultural and entertainment facilities.
Negotiated the relocation of The San Francisco Museum of Modern Art to the site.
Although O&Y's involvement ended in 1992, the project was completed by the millennium, substantially in accordance with the adopted master plan.